Axon Framework
Build modern event-driven systems with Axon technology
Modern demands mean increasing complexity for applications. Adding customers, products, functionalities, legislation, and employees – these factors can put a costly strain on your business goals without the right strategy. Whether your solution is to evolve your current application or build a new system entirely, AxonIQ provides you with the tools and expertise to empower your digital transformation journey.
Let Axon Framework evolve your application
Purpose-built and open source, Axon Framework provides the building blocks for modern applications using event-driven architecture (EDA) powered by domain-driven design (DDD), event sourcing, and command query responsibility separation (CQRS). Our proven technology allows your team to evolve your application to reach business demands without unnecessary complexity.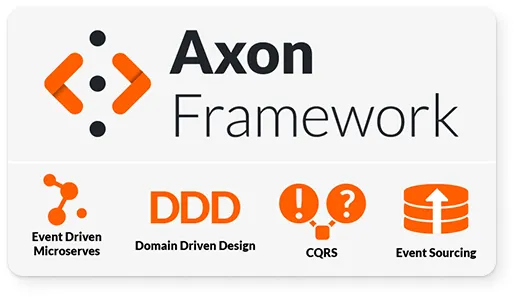 Deliver tangible business results without unnecessary complexity
Axon Framework offers an efficient, reliable, and ready-to-use event-driven architecture – without the hassle of starting from scratch. Our team can help guide you toward effective, custom-designed applications that continuously deliver results as your business scales.
Open Source, free and ready to start
Join the millions that have downloaded Axon Framework worldwide.
Design and Develop Event-Driven Applications
Build distributed, mission-critical enterprise systems.
Improve Time to market
Improve your time to market for new and legacy application projects.
Developing EDA without the right off-the-shelf and open-source tools, you will spend around 50% of your time on technical challenges. You will need 5-8 men-years to develop the framework and data storage just to get started. Do not reinvent the wheel; focus on the important stuff."