Introduction to Axon Synapse
We're happy to announce the first public release, version 0.6.0 of Axon Synapse.
Axon Synapse
Bridging the power of Axon messaging across languages and platforms. Axon Synapse serves as the key to a multilingual Axon Server. Axon Synapse uses HTTP to give your application access to Axon Server. HTTP is the most commonly used and known protocol supported by many languages and provides easy access and integration.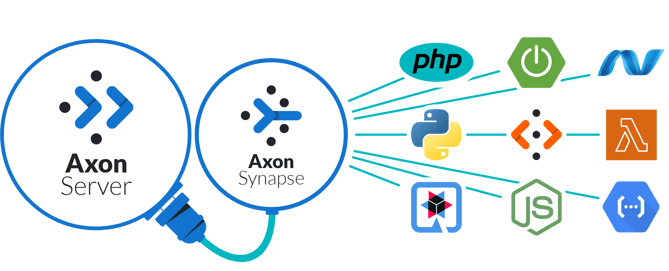 Features & Benefits
Axon messaging across all languages and platforms, full interoperability for Axon Server.
Application-driven and technology agnostic, open with a focus on all applications.
Payload agnostic, giving your application complete control.
Seamless integration with Axon Framework applications using Axon Server
Access to a diverse application landscape, such as FaaS (Function as a Service), serverless, or scale-to-zero environments.
More information
The Axon Synapse Product Page can be found here.
You can get started with Axon Synapse here.
Questions?
Contact us via our AxonIQ Discuss platform or directly here.
Share: